WWE superstars sacrifice a lot in their chosen line of work. Not only does the job take a physical toll, but superstars spend most of their time on the road, and therefore, away from their families. Being at the top of the industry makes for a very difficult lifestyle.
When it comes time for some of these stars to hang up the boots once and for all, a select few are given the storybook sendoff for all their trouble. Men like Shawn Michaels, Edge, and Daniel Bryan got to address the crowds who made them stars one last time, on their own terms. Those emotional goodbyes are considered some of the greatest moments in recent wrestling history, times when beloved icons were given the respect they deserved.
Unfortunately, it doesn't usually work like that. Most of the men and women who leave the company are simply dismissed in mass releases when it's determined that they no longer have value to the promotion. Without the benefit of having been top stars, they don't get that last goodbye.
Still, there are others who would probably kill to fade away without incident. Sometimes - whether due to a lack of good ideas, or simple vindictiveness - stars are humiliated on their way out of WWE.
Yes, the company has always been built around a hierarchy (with the McMahons at the very top), but one final twist of the knife while leaving seems particularly painful.
The Cruelest WWE Superstar Exits Ever
10. Chris JerichoWWE Network
In mid-2005, Chris Jericho turned heel for a feud with WWE Champion John Cena. Cena, who captured the belt from JBL at WrestleMania 21 and had defended it against the former champion in a rematch, had been drafted to the Raw brand in the 2005 lottery. It was Jericho's job to put the new champion over.

At Vengeance 2005, Jericho, Cena, and Christian met in a triple threat match, but when Cena pinned Christian, his issues with Jericho remained unresolved. The two were at each other's throats until SummerSlam, where Cena finally beat Jericho in a singles match.

The following evening on Raw, General Manager Eric Bischoff - who had already made enemies with Cena - was livid. He wanted the champion out of his hair for good, so he booked a rematch between Cena and Jericho with a "You're fired" stipulation. Again, Cena won, and a furious Bischoff turned his attention to Y2J. Jericho begged for mercy, but Bischoff fired him on the spot. When Jericho refused to leave, security guards carried him out of the arena kicking and screaming.

This was the last appearance for Jericho, whose contract expired a few days later. Though he did end up returning to WWE in 2007, at the time, he wasn't sure if he'd ever wrestle again. All things considered, he deserved a better sendoff.

9. Goldberg And Brock Lesnar
Just because an exit is cruel, it doesn't mean it's WWE's fault. Sometimes, the fans can embarrass stars all by themselves.
In the months leading up to WrestleMania XX, WWE was building a interbrand "dream match" between Goldberg and Brock Lesnar, two monsters who rarely tasted defeat in their careers. The company hoped the bout would be viewed as a clash of titans, and given that Goldberg was on his way out of the company, the 26-year-old Lesnar would get a huge win that would give his already-impressive career a boost.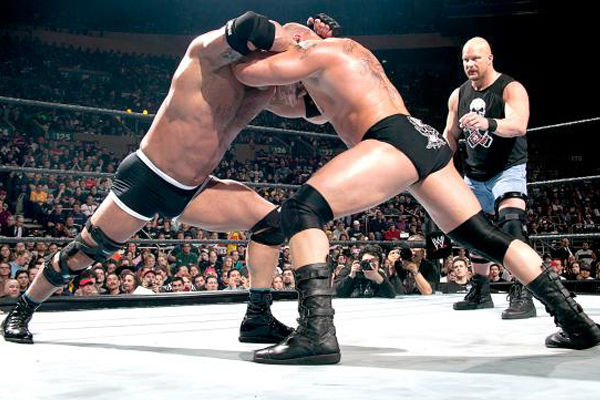 The Cruelest WWE Superstar Exits Ever
Just before WrestleMania, though, Lesnar requested his release from the company. Citing burnout from the traveling schedule and a desire to try out for the NFL, the former WWE Champion asked to leave after the show of shows. His request was granted. Given that WrestleMania XX would be the last show for both men, the company decided to put the babyface Goldberg over to make the fans happy.
Someone in charge underestimated what it would take to make said fans happy. Everyone in Madison Square Garden knew both men were on the way out, and so they mercilessly booed the entire contest. What would have been an acceptable bout with the desired crowd reaction turned into one of the worst high-level matches in WWE history.
Following the bout, both men received Stunners, and the contest has been rarely mentioned since.
8. Batista
When Batista left WWE in 2010, he expressed frustration with the direction of the company (specifically the PG product). That, combined with the fact that he was picking up roles in Hollywood, made it look like a return was off the table. Nevertheless, a January 2014 comeback was announced in late 2013, and "The Animal" won the Royal Rumble in his comeback.
That didn't sit well with fans, who preferred the idea of Daniel Bryan challenging for the title. Batista was roundly rejected to the point where he had to turn heel, and in the main event of WrestleMania, Bryan beat him and Randy Orton to capture the WWE World Heavyweight Championship. In subsequent months, Batista, Orton, and Triple H feuded with The Shield.
On June 2, 2014's episode of Raw, an unhappy Batista demanded a title shot from Triple H. When the COO wouldn't grant him his request, a petulant Big Dave waved goodbye to the fans and walked out of the arena. When approached for an interview backstage, the former champion said, "This sucks."
It turns out there was some truth to the situation. Batista really was unhappy with the way his comeback had gone, and he reportedly refused a scenario that would have seen him lose to Bryan in a singles match at Payback 2014, citing issues with WWE keeping their financial and creative promises to him. It seems like WWE chose to air the dirty laundry on TV, and Batista came out looking like the bad guy.

7. Rob Conway
At one point, OVW star Rob Conway was considered a top prospect for WWE. Many assumed that it would only be a matter of time before he was called up to the main roster and made an impact.

Things didn't work out that way, though. In 2003, Conway finally got the call-up, but he was put with La Resistance, a pro-French, anti-American stable designed to get cheap heat in the early days of the Iraq War. Conway's stablemates, Rene Dupree and Sylvan Grenier, were inexperienced at best and bad at worst, and so Conway got lost in the shuffle with them.

In 2005 he was repackaged as "The Con-Man," an arrogant character in the vein of Buff Bagwell, but he soon became a comedy heel. Conway eventually went on a losing streak, then disappeared from TV for months. When he returned to Raw, he vowed to quit if he couldn't beat Jeff Hardy. Hardy won, and before Conway could resign, Vince McMahon came out and fired him.


Conway was actually released from his contract a few months later, but that was his last TV appearance with WWE (he wrestled a few more matches in OVW). Undoubtedly, it made Vince McMahon feel good to essentially fire someone on TV, but for Conway, it was a humiliation.
6. Marc MeroWWE Network
Marc Mero joined WWE in 1996 as a babyface, accompanied by his real-life wife, Sable. After he suffered a knee injury, though, the high-flying heavyweight returned as a heel, one jealous of the popularity of his significant other.

WWE clearly saw more potential in Sable than Mero, and for the next several months, the divide between the couple widened. Eventually, Mero turned on his wife and forced her out of WWE. She was rehired and continued to feud with her husband and his new girlfriend, Jacqueline.

Sable got the better of the program and became one of WWE's most popular stars. Mero, meanwhile, floundered - his association with Jacqueline was ended and he began losing more and more matches.

On the November 30, 1998 episode of Raw, Mero was put into a match with Light Heavyweight Champion Duane Gill. Prior to the bout, Mero announced he would retire if he couldn't beat Gill, and sure enough, the champ won with some help from The Job Squad.

That was it for Mero. Though he did wrestle at the UK's Capital Carnage PPV a few days later, he explained that he was only fulfilling contractual obligations.

5. The Spirit Squad
Of all the development talents who got called up to WWE and given awful gimmicks, perhaps none were as egregious as The Spirit Squad. Ken Doane, Mike Mondo, Nick Nemeth, Johnny Jeter, and Nick Mitchell were all repackaged as male cheerleaders, designed to be cannon fodder for babyfaces.

They quickly won the World Tag Team Titles, but a feud with the reformed D-Generation X did them no favors. The quintet was routinely manhandled and humiliated by Shawn Michaels and Triple H, and portrayed as less of a physical threat to the duo than Vince and Shane McMahon.

Less than a year after their debut, the group was written off TV permanently. Following another loss, the group was assaulted by DX, dragged backstage, and thrown in a box. Triple H instructed a delivery man to take the box away, then slapped a sticker on it that said "Destination: OVW, Louisville, Kentucky" - a clear reference for "smart" fans that the group would be sent back to development.

The young stars were completely and inexplicably buried - while DX didn't need to lose their first feud back, men like Nemeth, Doane, and Jeter had been pegged for success and shouldn't have been associated with the storyline. Only one man - Nemeth, who became Dolph Ziggler - was able to recover from the gimmick.

4. Jim Neidhart
Though he was never the most talented worker in the world - and he was routinely overshadowed by members of his own family - Jim Neidhart was a loyal WWE employee for many years. His first tenure - which saw him capture a pair of World Tag Team Titles with Bret Hart - ended when he was fired in 1992, but he was rehired in 1994.

Neidhart didn't do much during his second term with the company, but in 1997, he joined his family for the rebirth of The Hart Foundation. The group became the top heels in the company, but it all came to an end when Bret was screwed out of the WWE Championship at Survivor Series.

Bret and The British Bulldog left the company, and Owen Hart stayed, but took time off. Only Neidhart - who would also leave before 1997 ended - was on Raw directly in the aftermath of the Screwjob. Despite his antipathy toward Shawn Michaels, D-Generation X offered him a spot in the group - and Neidhart accepted.

It was all a ruse, of course - the group attacked Neidhart. The next week on Raw was Neidhart's last, and the group attacked him once more, spray-painting "WCW" on his back. Neidhart was finally able to leave the company after symbolically turning his back on his family.
3. Muhammad Hassan
Just like talented stars sometimes get saddled with awful gimmicks, there are lousy wrestlers who are given major pushes they can't handle. Mark Copani fell into the latter camp when he was called up from OVW and given the gimmick of Muhammad Hassan, a Muslim-American who had experienced constant discrimination since 9/11.

The gimmick may have worked if handled in a more sensitive fashion, but WWE didn't want to make people think - they wanted to make them boo and chant "U.S.A." Hassan was pushed hard as a heel, despite demonstrating terrible ring work. Behind the scenes, wrestlers hated and resented the naive Copani for his success and his ignorance of backstage etiquette.

WWE had big plans for Hassan - reportedly, he was even going to get a run as World Heavyweight Champion. He feuded with The Undertaker leading up a match at The Great American Bash 2005, but a particularly tasteless angle designed to evoke images of terrorist beheadings led UPN to ban the character from the network altogether.

Confronted with the prospect of Hassan's banishment from Smackdown, WWE decided to write him off TV. At The Great American Bash, The Undertaker gave him a Last Ride through the stage, leading to severe (kayfabe) injuries. Hassan, who was earmarked for a push so recently, was never seen again.
2. Eric Bischoff
Vince McMahon won the Monday Night Wars when he put WCW out of business, and he won all over again when he hired Eric Bischoff as an employee. Bischoff showed up on Raw in 2002 and was immediately announced as the General Manager of the show.

For two and a half years, Bischoff played the heel authority figure on Raw, alternating between annoying fans and being humiliated by babyfaces (and Vince McMahon). At the end of 2005, the company opted for a change in direction, so Bischoff was "fired" from his post... but not without fanfare.

The December 5, 2005 episode of Raw hosted "The Trial of Eric Bischoff." Throughout the evening, cut scenes showing Bischoff in a courtroom with McMahon as judge were aired. Heels such as Chris Masters and Jonathan Coachman testified on behalf of Bischoff, but McMahon ended up ignoring what they had to say.

That all built up to the end of the show, where Bischoff was brought out to the ring to face the verdict. McMahon, still clad in his robe, fired Bischoff, then threw him in the back of a garbage truck for good measure. Though Bischoff would make later appearances on WWE TV, that bit of grudge-settling marked his end as a full-


1. Bret Hart
There's no exit from WWE as cruel or as well-documented as that of Bret "The Hitman" Hart. Vince McMahon's most loyal employee was signed to a 20-year contract in 1996, but when McMahon realized he wouldn't be able to afford to pay the deal, he urged Bret to seek employment with WCW. Unfortunately, Bret was WWE Champion at the time.

As champion, Bret had a single request - he would not lose the title to Shawn Michaels in Canada. Bret and Shawn legitimately hated each other, while the champ's pro-Canadian gimmick made him a hero in his home nation. He'd lose the belt to anyone, anywhere - including to Michaels in the U.S. - but not to HBK in Canada.

As Bret had a creative control clause in his contract, he was justified in making such demands. He would be wrestling HBK at the Survivor Series in Montreal on November 9, but he still had more than a month left to his contract after that. Bret offered to drop the title following the Pay-Per-View, but McMahon said it wasn't necessary - he could finish up at Survivor Series and leave as champion.

It wasn't that simple, of course. During the match, Vince came down to ringside, and when Shawn locked Bret in Bret's own Sharpshooter in a pre-planned spot, Vince spontaneously called for the bell to be rung. Thought Bret didn't submit, Shawn was declared the new champion.

A furious Bret realized he had been double-crossed. He spat on Vince McMahon and destroyed the ringside area as the show ended, and backstage, he punched the WWE Chairman out. It was a sad end to Bret's WWE career after 13 years of excellent - a slap in the face to McMahon's greatest star. Source: whatculture.com